Advantages of Investing in Farmland
Increasing global demand for food
Consistent long-term appreciation
Annual cash return
Non-volatile asset
Store of value
Investor-Friendly Country
Foreign and local investors treated equally
No limitations to ownership by foreign buyers
No currency exchange controls or forced conversion
Foreign currency can be used: Dollars, Euros, etc.
No restrictions or taxes when transferring money into, or out of the country (repatriation of capital)
Stability and Safety
Latin America's safest country
Tops rankings in political and economic stability
Tops rankings in transparency and lack of corruption
No social turmoil: existence of middle class and Latin America's lowest income gap
Solid legal system with strong reputation for respect of contracts and private property
Why Farmland in Uruguay?
Advantage # 1: Uruguay's Suitability
Non-degraded soil
Even rainfall year-round
World's largest aquifer beneath region
Temperate climate
Two crops per year (over long run: 1.7)
Competitive producer
No government intervention in the market
Developed land rental market
Uruguay: A Global Player
6th exporter of soybeans
5th exporter of dairy products
4th exporter of rice
5% of global beef exports ... Plus, Uruguay is the only country in the world with 100% traceability of its herd
A country of 3 million feeding 40 million people
Plus: One of the World's Best Places for Forestry
Fastest growth rate of eucalyptus, due to soil, climate and water availability: 8-10 year cycles
World's highest FSC certification: 85% of forests
In 2006 UPM (Finland) and in 2010 Stora Enso (Sweden) built the world's largest and newest pulp mills ....and in 2019 UPM launched a new one:
Global soil degradation, and where Uruguay stands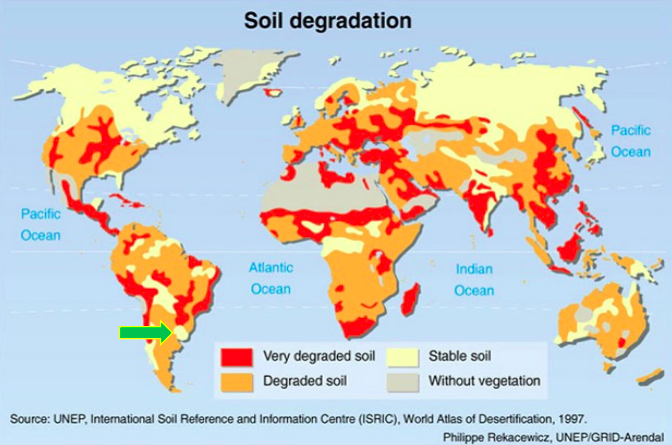 Escasez de agua a nivel global y la posición de Uruguay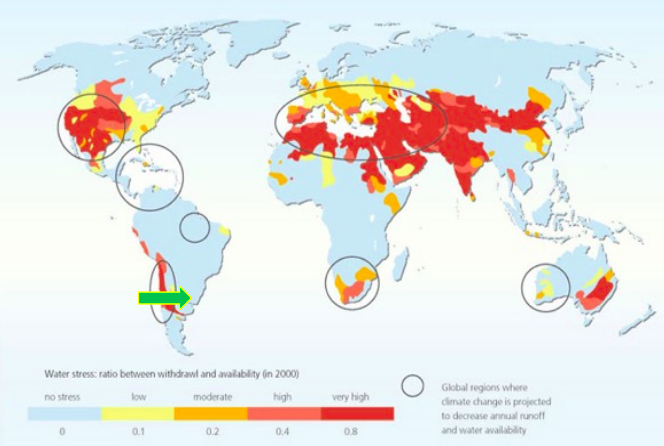 Advantage # 2: Turnkey, Easy Investment
Most investors choose to:
Outsource management of the operation to a farm management firm, which handles all aspects of the business (expertise is widespread and available); or
Lease out the land (there is a very liquid rental market available).
Advantage # 3: Transparent Market for Land
The country is mapped, with soil types classified according to their productivity
Each type of soil is has a productivity index ("CONEAT" index)
The map is available online
Thus, land productivity is verifiable
The Online "CONEAT" Productivity Index
Type here
Plug in the property number(s)
The system will show the specific property's:

location and water resources (rivers, creeks, lakes)
detailed soil map, with soil types in different colors, and the percentage of each soil type
description of each soil type
the productivity index of each soil type ("CONEAT" index)
the average "CONEAT" index for the whole property
The Online CONEAT System: Example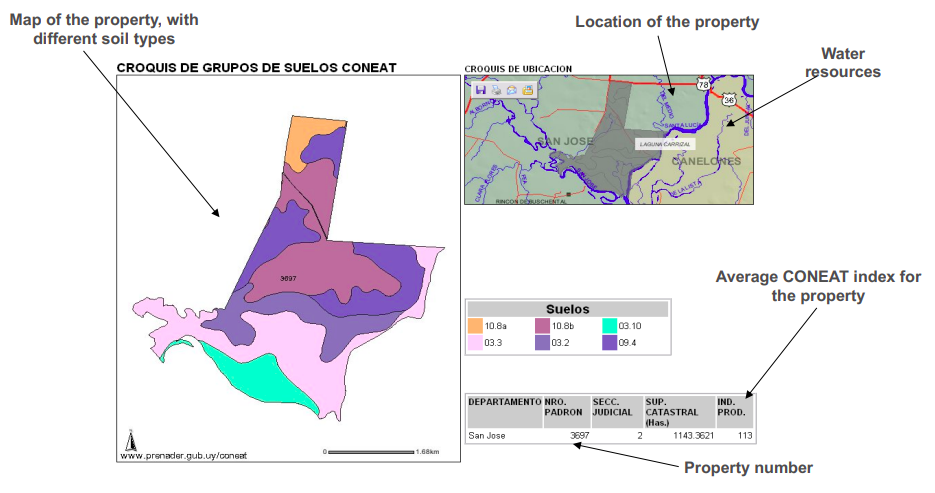 Advantages of the CONEAT System
It allows anyone to verify the productivity potential of a property in Uruguay
It provides a tool to determine uses for a specific farm
The CONEAT index of a property correlates with the price of the land. The market is thus very transparent: it is easy to compare properties and determine their fair value
Types of Land in Uruguay
Agriculture (soybeans, wheat, rice, etc.)
Cattle/sheep ranches, dairy farms
Forestry: eucalyptus, pine
Vineyards / olives / blueberries
Oceanside rural land for development
Uruguay's Most Attractive Options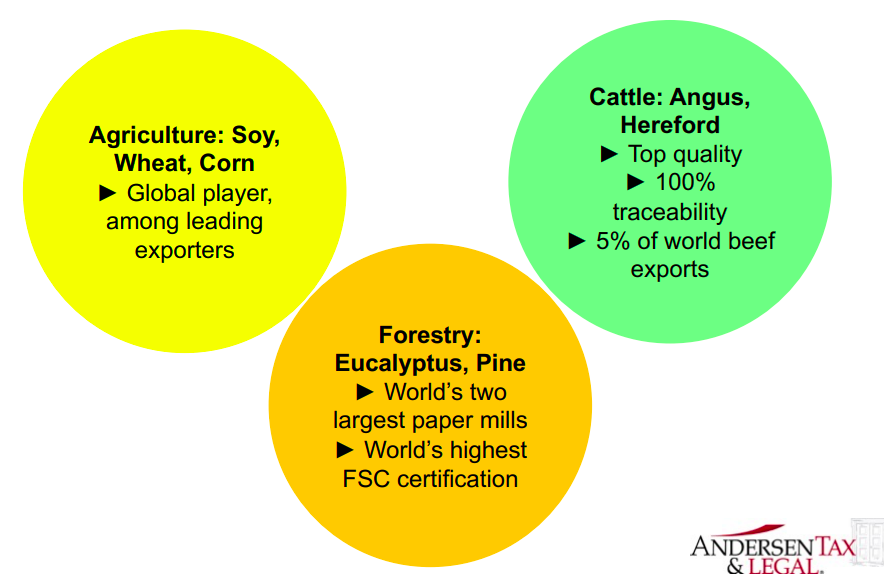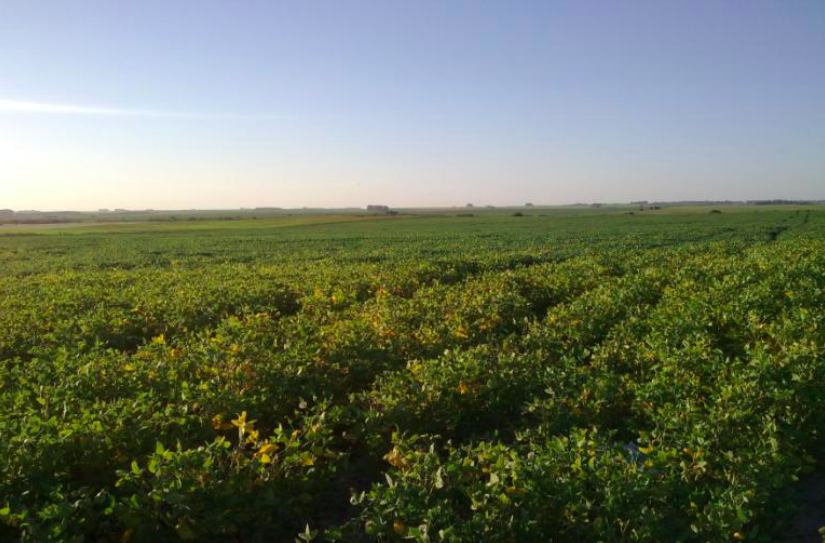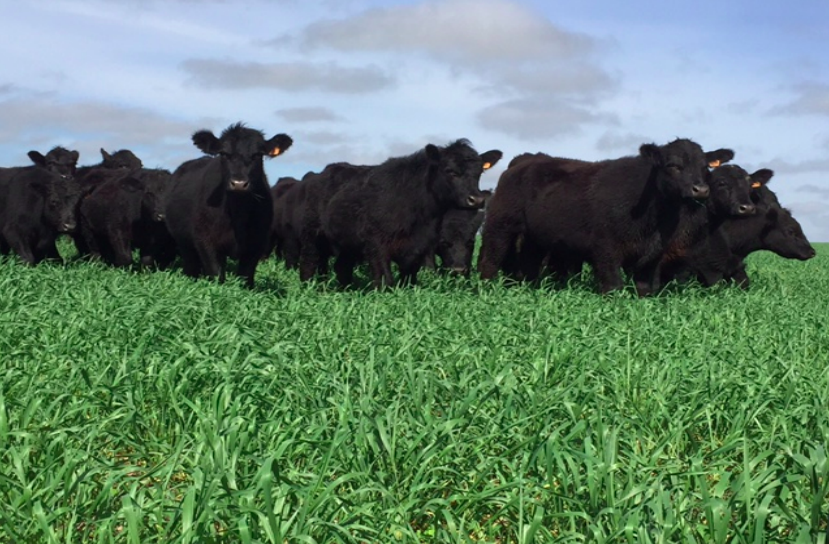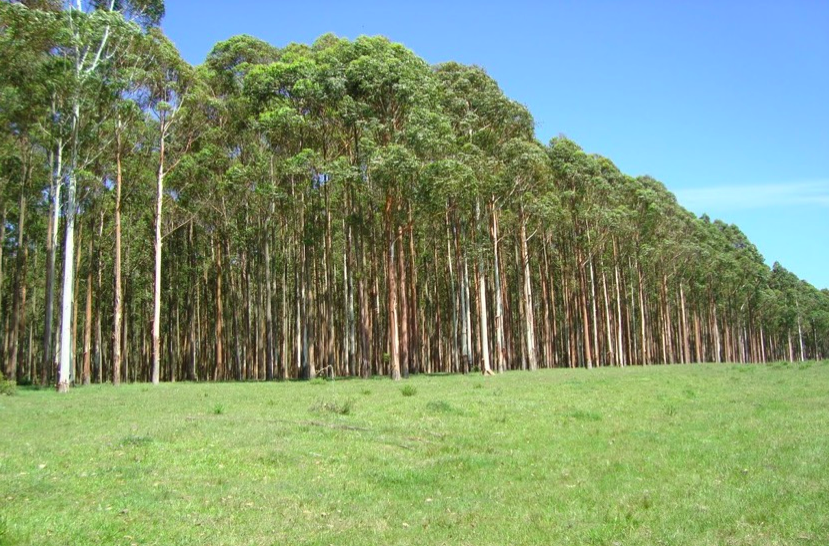 The Price of Land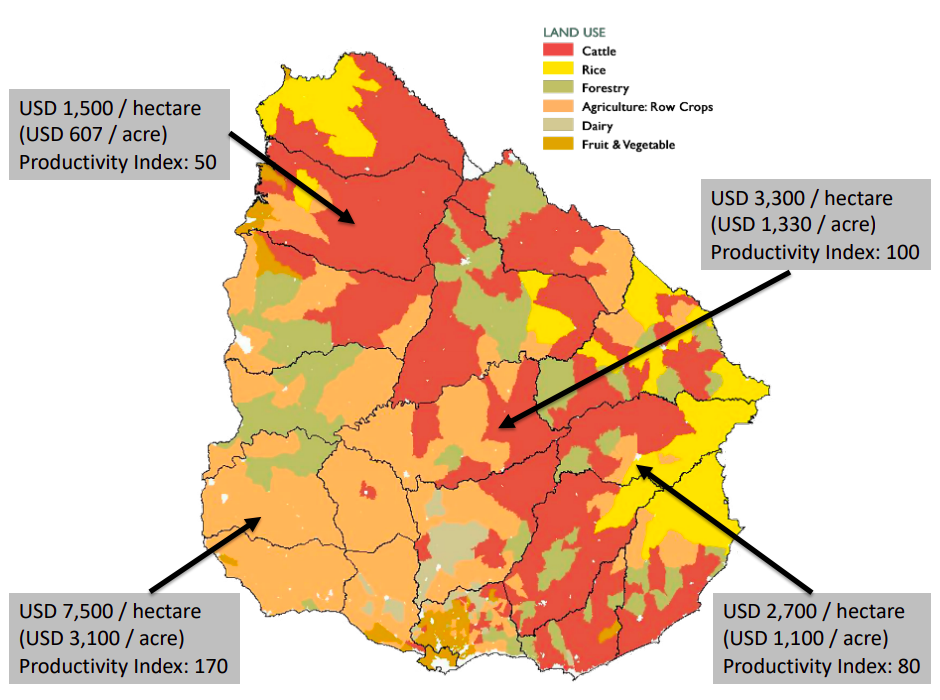 Farming has favorable tax treatment in Uruguay:
Income tax:
Flat 25% income tax rate, levied on net income
For small farms, the rate is lower: farms with gross income below USD 250,000 per year have a capped tax amount of USD 5,125 (IMEBA system, which taxes sales –at 0 to 2%- instead of net income).
Certain timber operations qualify for tax breaks
Low property taxes: average is 0.2% *
Our Services
We are a full-service Law and Tax Firm, with a specialized division assisting overseas farmland investors, both institutional and individual.
Our Farmland investment advisory unit assists with:
Sourcing farmland according to client needs/preferences
Structuring purchases
Organizing corporate structures, setting up ongoing farm management
Our Legal and Tax Services include:
Conveyance / Legal Assistance in the Purchase Process
Tax and Accounting Support
International Taxation
Company Incorporation
Legal Services in general (contractual, corporate, labor).
Andersen is the Uruguayan member firm of Andersen Global®, an international association of member firms comprised of tax and legal professionals worldwide.